In India, when we say 'sports', most of the people can first think of Cricket. Cricket has been considered one of the greatest sports by Indians for several years now, although the National Game remains to be Hockey. And, when we are not talking of Cricket, what most Indians can make out of the word 'sports' is Football. No other sport is given as much importance as these two sports, although we have so many that we cannot count on our fingers.
So, it is a fact that India has numerous sports and countless sportspersons who excel in them. There are shooting, basketball, golf, boxing, wrestling, volleyball, archery, weight lifting and so many more. But how many of us know about all of these or the players associated with them? Personally, I don't think anyone who is not greatly fond of sports would know about these sports. Reason? Well, they have never been given footage by the media or never received any kind of popularity or emphasis from the government. The government has clearly ignored all of these sports over the years, a result of which, the sportspersons associated with them are leading a miserable life.
A news headline published by NDTV yesterday is a classic example that tells the tale of the plight that sportspersons go through every day. The news brought to light the tough life of Pushpa Gupta, a 21-year-old National level shooter from Gujarat, who now sells noodles on a roadside stall along with her father to earn a living. Having represented Gujarat at National Level shooting competitions, the girl has now given up on her passion because she cannot afford the guns. Such is the life that our National level sportspersons are leading today. According to the news report, Pushpa attracts customers to her stalls with all the medals and prizes that she has won so far.
A few years ago, one more such story made rounds in the media. It showed women representing the National Women's Kabaddi team waiting for an auto rickshaw on a roadside with the Kabaddi World Cup in hand. No kind of transportation facilities were provided for these players by the government after they made India proud at the global level and got home the World Cup for us.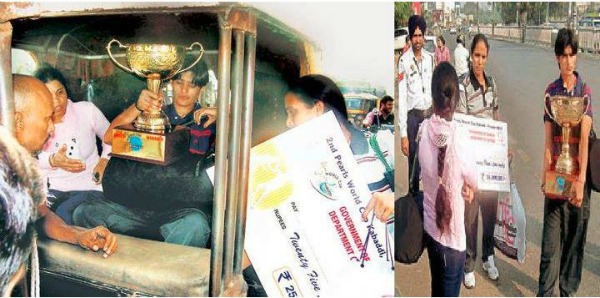 On the other hand, when there are cricket matches or World Cup matches, the entire country sits glued in front of the television; the players and teams are appreciated and congratulated by politicians and even awarded for their contribution to their sport. But what about these players? Aren't they important? They are as talented as the cricketers are, aren't they? They have also made India proud a number of times by bringing home awards and medals. But because these sports are ignored by the government and not given any sort of popularity by the media, these players get completely neglected and have to struggle to meet the odds meet in their everyday life eventually.
My only point of writing this article is that people should share this so that it reaches the government and all these talented players get their rights, some form of help and recognition. After making the nation proud, they surely do not deserve to struggle every day to fill their stomach. The media should give such sports importance and popularity too so that people come to know about them.
Also, read this awesome article on the plight of various non-cricketing sportspersons: